Joined

Apr 29, 2023
Messages

20
Reaction score

8
Points

3
Im.gking to be quiet honest and Frank here have any if you tried the product this makes strength wise iits fucken shit yrs you make a product but it does nothing not only me 4 other people said the same thing after producing product for the last 20 years I'm going to tell you all straight unless your reaction has a metal in it don't bother it's the metals that what give the product it's strength leg lithium bitch iodine hypophos/rp p2p aluminium amalgam your reaction has to be one of these else your just waisting time effort and money on producing shit
I'm not having a go at any one I'm just stating the facts thanks to btc bioss keep up the good work I'm going to try and find another method of yours that has metal in so I don't throw this p2p down the toilet all these methods without metal in them are to ifucken.us3l3ss

Well-known member
Manufacturer
MDMA
Methamphetamine
Joined

Mar 15, 2022
Messages

387
Reaction score

397
Points

63
Deals

1
Im.gking to be quiet honest and Frank here have any if you tried the product this makes strength wise iits fucken shit yrs you make a product but it does nothing not only me 4 other people said the same thing after producing product for the last 20 years I'm going to tell you all straight unless your reaction has a metal in it don't bother it's the metals that what give the product it's strength leg lithium bitch iodine hypophos/rp p2p aluminium amalgam your reaction has to be one of these else your just waisting time effort and money on producing shit
I'm not having a go at any one I'm just stating the facts thanks to btc bioss keep up the good work I'm going to try and find another method of yours that has metal in so I don't throw this p2p down the toilet all these methods without metal in them are to ifucken.us3l3ss
Lordoftheshard 2
Is impossible to discuss something when the main thing are "facts" based on personal feelings without any chemical or scientific argument.
Is very easy to understand pure MDMA is pure MDMA and pure D-Meth is pure D-meth if you obtain the pure product it's a unique compound with a unique molecule structure.
D-Meth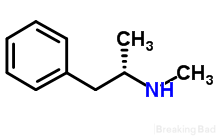 MDMA
If you have these pure and isolated molecules no matter the route you used with metal, without metal even with magical techniques...won't be any difference should be exactly the same.
About strength only could change about impurities(pure product concentration not enough isolated) or enantiomers separation(in that case won't be the exact molecule of the pic)
I can put in your hands 10 samples of pure product obtained with different routes and you never will know the route used on each, won't be distinguishable.
Easy example pure technical distilled H2O is pure H2O you won't know the technique used to get it you just have H2O.
With this I don't want to change your mind or your feelings when you use the product, I'm just explaining contrasted and real facts that could be shown to anybody anywhere with the same results.
Thanks.
↑

View previous replies…
If I sold that product in my country some one would shoot me its only good for cutters instead of using n -iso we already did tests.with meth made from pseudo and this product mixed and rexaled it's ,$700 cheaper a kilo than buying n-iso
I don't cut my product but I gave me.friend some of this product he mixed it with his pseudo product and recrystallized it
Lordoftheshard 2
Why don`t you run a TLC for the two products (pseudo & NaBH4 - meth)? If it is the same molecule then perhaps the resolution is not right. Pseudo gives 100% D-meth, from P2P it is difficult to get close to that purity (and impossible to reach it).
It would be great to get to the bottom of this question. On one hand if it is the same molecule (as btcboss said) it should be equally effective, on the other hand I am sure the reports of lack of effect are also true, so we have an important question to solve. I don`t have access to pseudo unfortunately (and cannot be bothered to extract from cough medication), but if I did I would try to figure this out.
Has anyone tried the effectiveness of Al/Hg product? Is Al/Hg better to reduce P2P because a metal is involved in it?