Joined

Apr 3, 2022
Messages

5
Reaction score

2
Points

3
dear community
,
May we briefly introduce ourselves, we are the Omicron Market, we also want to introduce ourselves here in the Breaking Bad Forum
We have a lot of fun developing and that's why we decided to build a market and yes, now it's here and we would like to introduce our market to you.
He's far from finished with our ideas, there's a lot more to come
LET'S GO TO THE MARKET:
We start with a simple layout and keep adding new stuff. Our market is very easy to use. You will definitely like it.
The script was developed by our developers and is not an Eckmar script
Our market has been online for almost 2 months now, we already have a few vendors, but the market is fully functional
WHAT DO WE HAVE TO OFFER:
Our supplier deposit is $100
There is a free provider bond for verified providers. Just create a support ticket.
We have a deposit system and not a walletless system
Our deposits and withdrawals work automatically
Currently there is only Bitcoin, but new cryptocurrencies will be added soon
We also created a devlog where everyone can see what new features have just been added
2FA for more security
And much more
You will definitely feel comfortable perusing the market
We're already listed on Darkeye and soon on TorTractor, we just want to make a difference here on the dark web and develop a market that's just great, the way everyone imagines it to be
If you have any other questions or need any help just write me or if you need any help in the market just create a support ticket and I will reply you as soon as possible
We hope the presentation was enough, we look forward to seeing one or the other of you at our market soon
Market URL
:
http://vpr4wkj2yb33eux5jln5stvzn5evoofcjdo6mty34yzbx5lyw3kh5jad.onion/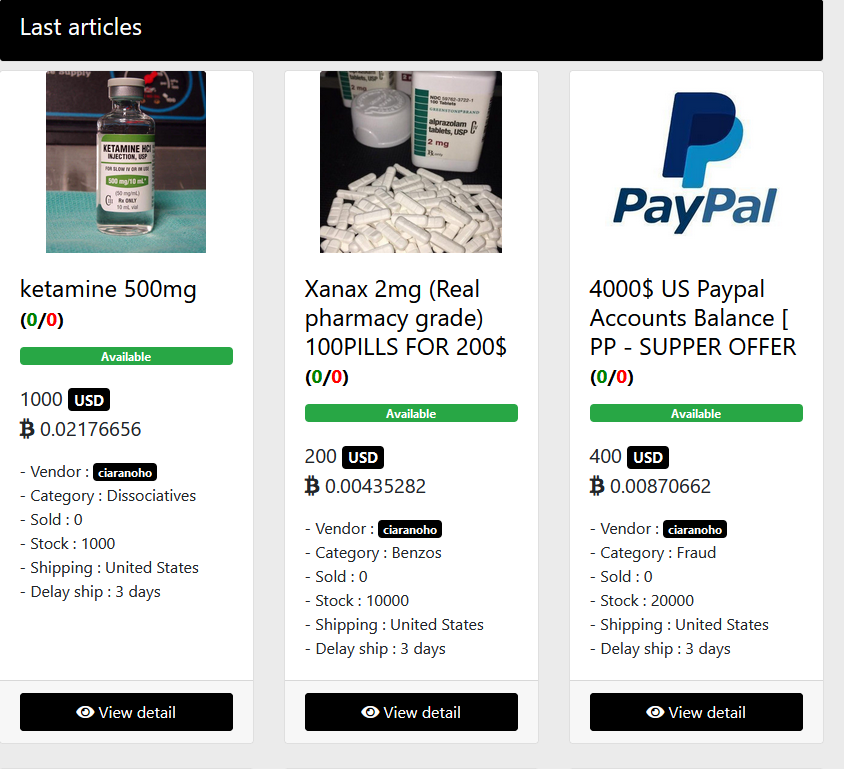 Sincrely OmicronAdmin


Market PGP:
-----BEGIN PGP PUBLIC KEY BLOCK-----
mQGNBGH8h6oBDACx13sI1LM7sxbQOYh+lkZDIxtmM946tTVqizjKgOw0ARQnn/eO
l3WxM58OvW9GFTD5ztX/sI5BqPOcGwh280H5xGJHrhERqgYJgMDf+nTR2mbgmxa2
l6gMRqs7WSwM+lQ4MLd+pDz1OXxrz6TAlIRnz3DerymSOto33+w/gQiewHda5pNU
ENAW3wLRK3SSleWrV43dixcULDdz/bpMkniQuYL7765d6IHr6HXUoBS2Q1Eei7v4
uxSce5E98EUZdrVSzdXXSuB1LLs/J2a1lvvCj+quiBbnRqNQWqyFE2fZpBIUJBJc
S2GBzdSn7gNJo7dSE8E7gWBP4B3tJLtgx2n+AYGuEcjE+bTSyIY4sLmmzIpCRd7m
hzbbgKSHotmr2L2GSEi8Hj4WurvxilWzPpAgwmfWuuFsMsCVpbfy5XUpmb2vFzAC
CQg2x4lJ6fNQjWrCdbUXAAq7IBvWschoWZ3+3CFFfdrpVNqu3+8CqfKM0XjMMHxE
/xnmqPl3d4Cfj8cAEQEAAbQHT21pY3JvbokBzgQTAQgAOAIbAwULCQgHAgYVCgkI
CwIEFgIDAQIeAQIXgBYhBOmQ9w2rDbMiKAJUStxSMGyhQleMBQJh/IgSAAoJENxS
MGyhQleMx0QL/RWfJiA37RdfqCMwg1mZm7LXvK7joHhN9hL3aiw9Gc5hoOLCPhs7
YhWpoI35Hezt+dBMR9HRbOC310a40dCAiWeEnbVIPSDIHC0oong2L1wFNAhEYkVV
cuONrRnc6X4NhVssO97rjU1DZCUgNWYvpdH2OvajqbVI/9DVYzRkjgqWkC+yFRLX
TEWqAgbZuhjs8PynLb7JFXJ0YdOCduIV+YeFbh5GEPx9bBLJkakONCzGxye74Fim
RINRMPEDIqpLGzb0yCU9Yc5Ha7sBP8xcJs7EW6HZb+Y751NMFJCysjN5ZDU7YSDk
nlwjWzR6h5mksj9/7VdzUvW4fN20zkQDY6CqIf/z4YgrcECiBsOBM8FGZB8hGso6
ZG/Lo+k+a8VuNPwzbAcTz6D/cSSpkdDXlBJZXnQlCgnjNrlRvqP1cKVrRn8AznAc
fH9oTSiM6l3maXxS0Ooj2xlUT9Wv1lmz4mlDOTY0HNtLrAcqwXBK0g553BTbP/8d
RCCt5FW5PeiSWrkBjQRh/IeqAQwA6nLDcqShRTSG79WL30LP6KpQt9LZlrC2FPp4
Jkk54Yr8zm7FSvX0QO7pPTLYJuiq53oHD6904+0njT5mLL27s9/qMZbchyKuWwwH
X6gvMFCJLnKzfRkle4i/KJAn80Il1dt8zSG+tu7MT2w/1ZLjYeSLyzR8nNe2/3x9
VBRDRfiLY/gxEcDvUaQ+ue1AEFm/5JOwqk/HSYqRxeVOZaTYMwDMu8tge7OFIz/g
ghBmkaODUoJIy3oR9tHxtL7WjZmCci123SAN8FMKWI5eciPGE+N7P7GnJ0Rjtfh4
Xaego/Jl3Zrpj7Fq060JB4BEcaHoPm3JaF1VEDF/RyWA0AAN4aXM7G6qycVJHGUf
WWXbXfi/6Z4tnt6HMNrjRxmVRtYnuMm4uxMJPBroRWQNTEefX7+cBqGfeI/WnQL8
5ItG8+qkhy22DW5XGzetBMbbd1d6ngIrsozpM2LYXm6FjADt18bP5hLPsgdZSUgI
Fb+sN6/dv/o8Xa+CvJTHoNDjqJC7ABEBAAGJAbwEGAEIACYWIQTpkPcNqw2zIigC
VErcUjBsoUJXjAUCYfyHqgIbDAUJA8LmhgAKCRDcUjBsoUJXjKo4C/4uhIVa7hCP
DyVUlOCZG8qW8w6rf6v92cB2QeFSjf7x26m/84nCJ+J04/4ff3hXfm6q5bpXzgKV
sXPlSxpPO002oZ0HYf5H5mhi+aKI3LSOdvpCBTP7NLQYoR33Ca1EcSQO601liS40
dcnGLGukEdoXsIUPD7OepkpN/3Wq3//8kbNoLOmyAXmjMcGCcBul3wUYqhpqHVVo
uzZzRkf0p6BdQIp2XbpDmx+HSUeBTsxdcpN9fBO95hfIhlWvrYXt1FQqHq+ShGIo
TKKkRsYAH2Tkr588wITO0hMaexY4BXIm6vgHy8XaOLWlaHitVOWwedKd1cLs8d84
njC1GwJ0MNBxsLpSkE2sMlPfgdcIe5x0wyd8YuToTk8JNY/4loERy17+coyY+vOE
dhjFFPt6Wt3Jo8CEZvkVrvyn9LptO+xQkq3cmRVUNi513g6Eg2FEMrP2Yqy7WiNP
oykq+62lp3dsdfu8DmZlcltU5PO5k4E0zUkiLWanOlKYNOclmHtZOKw=
=21O2
-----END PGP PUBLIC KEY BLOCK-----