Joined

Jul 5, 2021
Messages

2,185
Solutions

3
Reaction score

1,949
Points

113
Deals

1
Introduction​
Here you can find detailed information about aluminum amalgam, it's producing manuals from mercury nitrate or mercury chloride. There is a mercury nitrate synthesis manual with video instructions. Mercury chloride synthesis isn't described by reason that it's produce from mercury nitrate. Aluminum amalgam is one of a number of metal amalgams that is not described here for the reason that only aluminum amalgam is mainly used in synthetic routes of illicit drug production.
​
What is Amalgam​
An amalgam is an alloy of mercury with another metal. It may be a liquid, a soft paste or a solid, depending upon the proportion of mercury. These alloys are formed through metallic bonding, with the electrostatic attractive force of the conduction electrons working to bind all the positively charged metal ions together into a crystal lattice structure. Almost all metals can form amalgams with mercury, the notable exceptions being iron, platinum, tungsten, and tantalum. Silver-mercury amalgams are important in dentistry, and gold-mercury amalgam is used in the extraction of gold from ore. Dentistry has used alloys of mercury with metals such as silver, copper, indium, tin and zinc.
​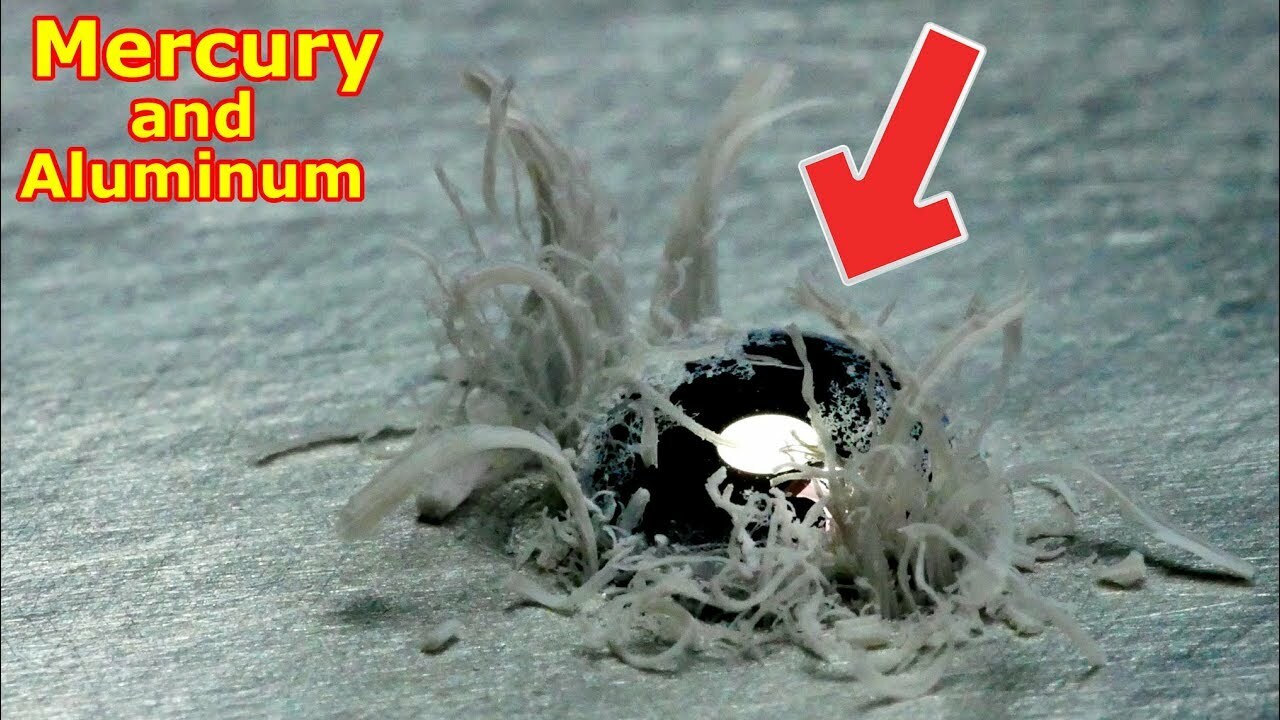 ​
Aluminum can form an amalgam through a reaction with mercury. Aluminum amalgam may be prepared by either grinding aluminum pellets or wire in mercury, or by allowing aluminum wire or foil to react with a solution of mercuric chloride/mercuric sulfate. This amalgam is used as a reagent to reduce compounds, such as the reduction of nitro compounds to amines. The aluminum is the ultimate electron donor, and the mercury serves to mediate the electron transfer. The reaction itself and the waste from it contain mercury, so special safety precautions and disposal methods are needed. As an environmentally friendlier alternative, hydrides or other reducing agents can often be used to accomplish the same synthetic result. Another environmentally friendly alternative is an alloy of aluminum and gallium, which similarly renders the aluminum more reactive by preventing it from forming an oxide layer.


Aluminum in air is ordinarily protected by a molecule-thin layer of its own oxide. This aluminum oxide layer serves as a protective barrier to the underlying aluminum itself and prevents chemical reactions with the metal. Mercury coming into contact with it does no harm. However, if any elemental aluminum is exposed (even by a recent scratch), the mercury may combine with it to form the amalgam. This process can continue well beyond the immediately exposed metal surface, potentially reacting with a large part of the bulk aluminum before it finally ends.

The presence of water in the solution is reportedly necessary; the electron rich amalgam will oxidize aluminum and reduce H+ from water, creating aluminum hydroxide (Al(OH)3) and hydrogen gas (H2). The electrons from the aluminum reduce mercuric Hg2+ ion to metallic mercury. The metallic mercury can then form an amalgam with the exposed aluminum metal. The amalgamated aluminum then is oxidized by water, converting the aluminum to aluminum hydroxide and releasing free metallic mercury. The generated mercury then cycles through these last two steps until the aluminum metal supply is exhausted.
​

​
Preparation methods​
Al/Hg amalgam from HgCl2 in MeOH solution
Set up a two-liter flat-bottom three-neck flask, and plugged one of the necks. Arrange a reflux condenser in the center hole. The apparatus was placed on stirrer/hotplate. Cut Reynolds Heavy Duty aluminum foil into about 1" squares, to make a total of 27.5g.
​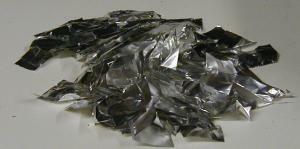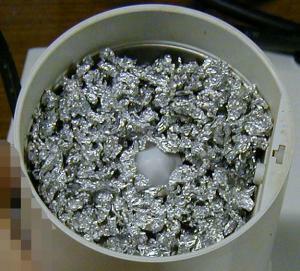 5g of foil in 1" squares and 5g of foil and foil after 8-10 seconds of grinding in a Braun coffee grinder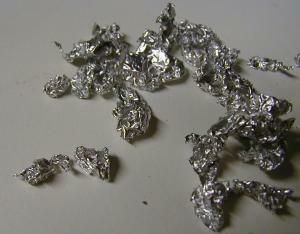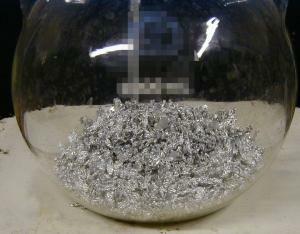 Closeup of foil balls and 27.5g foil in a 2000 mL flat-bottom flask
​
Put 5g batches into a small Braun coffee grinder and ground the foil for 8-10 seconds. The foil doesn't really get "ground", but it gets all balled up into little globs. This works amazingly well. It may sound weird to put your foil in a coffee grinder, but this is without question a breakthrough in the preparation of aluminum for the Al/Hg. Next, 400 mg of HgCl2 was dissolved in 750 mL of lab grade MeOH. When the MeOH was ready (all HgCl2 dissolved), it was also dumped in the flask and the condenser was put in place. It was stirred for 5-10 seconds every minute or so. In less than 10 minutes, faint bubbling was visible, the solution was gray, and the aluminum was distinctly less shiny. Some pieces had started to float. When the amalgam is ready, gas evolution stops.
​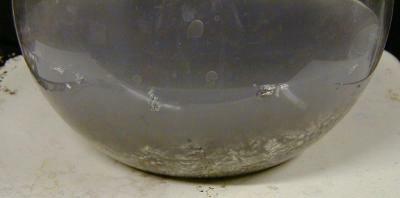 Amalgamation complete
​
Dry Al/Hg amalgam from Hg(NO3)2​
We take 14 g of aluminum foil and tear it with our hands into pieces of 2x2, 3x3 cm in size. Be sure to tear, not cut, to increase the surface area. Place into a 3-necked round-bottomed flask and fill the foil completely with water.
​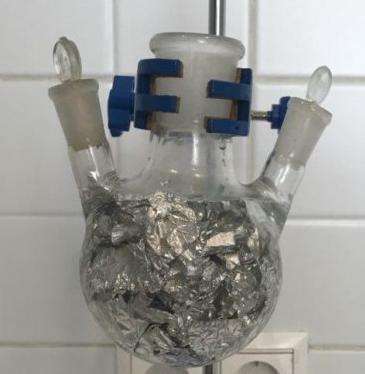 ​
Now we are preparing the mercury salt. We take a mercury thermometer from the pharmacy, wrap it in paper, break it at the bottom tip. Pour all the mercury (~1-2 g) into a glass, where then add 4 mL of nitric acid (70%). Do not forget that mercury vapors are hazardous to health! To initiate the reaction, the glass had to be heated to about 50 degrees, stirring occasionally. All the mercury dissolved about for 30 minutes, and an orange gas, nitrogen oxide (IV), was released from the glass. The reaction equation is as follows:
​
Hg + 4HNO3 ----> Hg(NO3)2 + 2NO2 + 2H2O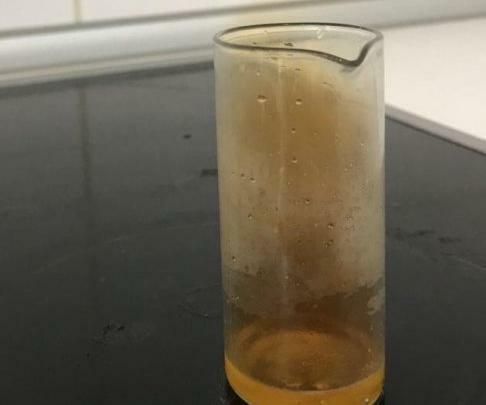 Pipette 2 mL of the solution and place it in a round-bottom flask with foil. After about 5 minutes, the foil lost its shine, became dull, and a small layer of gray sludge (aluminum hydroxide) collected at the bottom of the flask. After 10-15 minutes, the reaction stops, this can be seen by the cessation of gas evolution.
​
​
We drain the liquid and rinse the foil with water 3 times.
​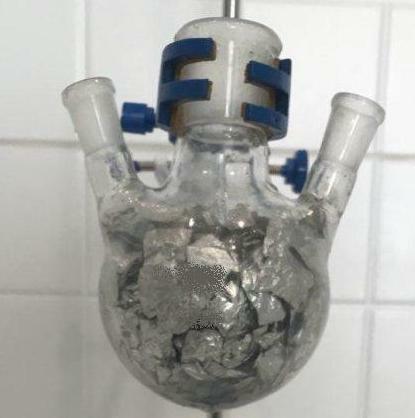 ​
Acetic essence is often used to produce hydrogen, but I "start" the reaction to produce hydrogen with water. Less acidic medium, which means less alkali must be added later. Many people ask the question: "How to remove this water?" There is no need to remove water anywhere, it reacts with aluminum and hydrogen is obtained: 2Al + 6H2O ---> 2Al (OH)3 + 3H2
​
How to use it​
Last edited: