Joined

Jul 19, 2021
Messages

577
Reaction score

387
Points

63
Dripping an affordable muriatic acid (HCl aq 31%) over concentrated sulfuric acid (H2SO4) is one of the best methods for producing a dry gaseous HCl, if it is necessary to quickly scaling. The reaction rate and temperature is easily controlled. Capacities are easily and quickly cleaned, and if necessary, immediately launches with a new portion of reagents. The method is well suited when you need large volumes of dry HCl immediately and quickly. It is better to use glass or plastic reactor or handmade analogs (barrels and stirrer devices).
Muriatic acid slowly drops to stirred sulfuric acid. Sulfuric acid is dehydicing muriatic acid, releasing dry gas. The released HCl is preferably skipped over a small amount of sulfuric acid in an intermediate container to remove traces of water. The obtained dry gas can saturate the available isopropyl alcohol for storage as anhydrous solution. By weight of the solution, it is possible to determine the concentration of the resulting solution (no more than 25% for IPA)
Recommended amount of sulfuric acid - 2 parts per 1 muriatic (31%) acid. The stirred during all time. The reaction can be seen bubbles in the receiver. Plastic tubes are suitable for gas. With the right proportions, almost all HCl is removed from muriatic acid.
Example of an industrial reactor for this method
Example of a laboratory generator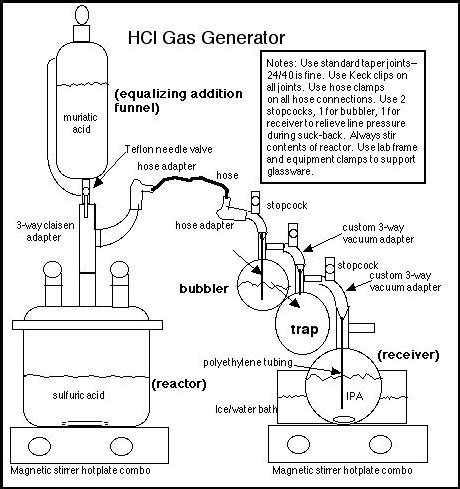 Last edited by a moderator: