Joined

Jul 19, 2021
Messages

579
Reaction score

528
Points

93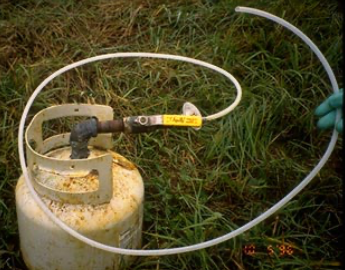 HCl gas is obtained by mixing sulfuric acid (e.g., commercial drain cleaner) or hydrochloric acid (muriatic acid) and salt (e.g., rock or table salt) in a reaction container, referred to as an HCl generator.
HCl's generators encountered in the field have included:
• propane tanks
• plastic gasoline containers
• 2 liter pop bottles
• soda syrup cylinders
• medical oxygen cylinders
• freon and helium cylinders
• ketchup dispensers
• ziploc or plastic bags
• glass vacuum flasks
• fire extinguisher bottles
• acetylene cylinders
• dive bottles
• self-contained breathing apparatus bottles
• baby bottles
• various other containers
Types of generators encountered:
As observed at clandestine labs, an HCl generator typically has the following operational design elements:
1. ability to add acid and salt together in small quantities, then be sealed
2. ability to contain pressurized HCl gas
3. ability to valve off the generator
4. ability to transfer the HCl gas through a hose
5. portability
6. inexpensive
7. considered by the clandestine lab operator to be disposable
8. ability to disguise as a common household item (e.g. propane tank, etc.)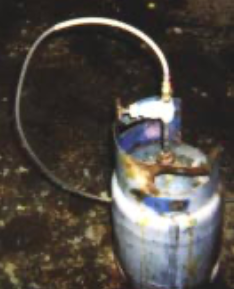 A dip tube, which aids in filling, may be present. It typically extends 4 inches down from the propane valve into the tank. When properly filled, a valve is opened, allowing gas to escape up through this dip tube. When the liquid level in the tank reaches the dip tube level, liquid will begin escaping the dip tube opening, indicating the tank is full.
Tanks used as HCl generators typically do not have a properly-rated valve installed. They often have a home-made arrangement of brass, galvanized copper and stainless steel fittings. Stainless steel valves may be rated for HCl.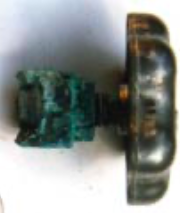 Standard propane tank valves have a pressure-relief valve that actuates at about 375 psi. At that pressure, it is designed to automatically open, decreasing the pressure in the tank.
Additional types of HCl generators: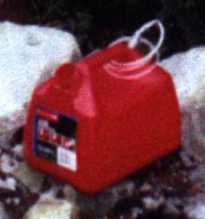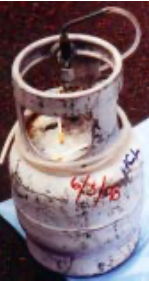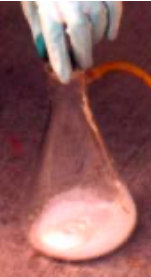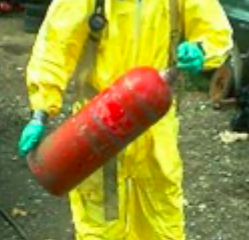 Chemistry of HCl generators:
H2SO4 (aq) + 2NaCl (s) ---> 2 HCl (g)+ Na2SO4 (s)
(sulfuric acid + sodium chloride ---> hydrogen chloride gas + sodium sulfate)
This reaction generates heat and pressure as the HCl is produced. Warm up the contents of their generator to produce additional HCl gas after the pressure has dropped and the reaction neared completion. Higher temperatures of any gas typically result in higher pressures.
Last edited by a moderator: