Joined

Jul 5, 2021
Messages

2,010
Solutions

3
Reaction score

1,511
Points

113
Deals

1
Description.​
Desiccator (from lat. exsiccare "to drain") is a vessel in which a certain air humidity is maintained (usually close to zero), made of thick glass or (less often) plastic. The desiccator lid is ground to the plane of the upper edge of its body and is lubricated with a special vacuum grease or vaseline to achieve tightness. Desiccators are used for slow drying at room temperature, storage of hygroscopic compounds, in gravimetric analysis, when it is important to avoid saturation of the test substances with an indefinite amount of water from the air. For some purposes, it is possible to create a vacuum inside the desiccator.
​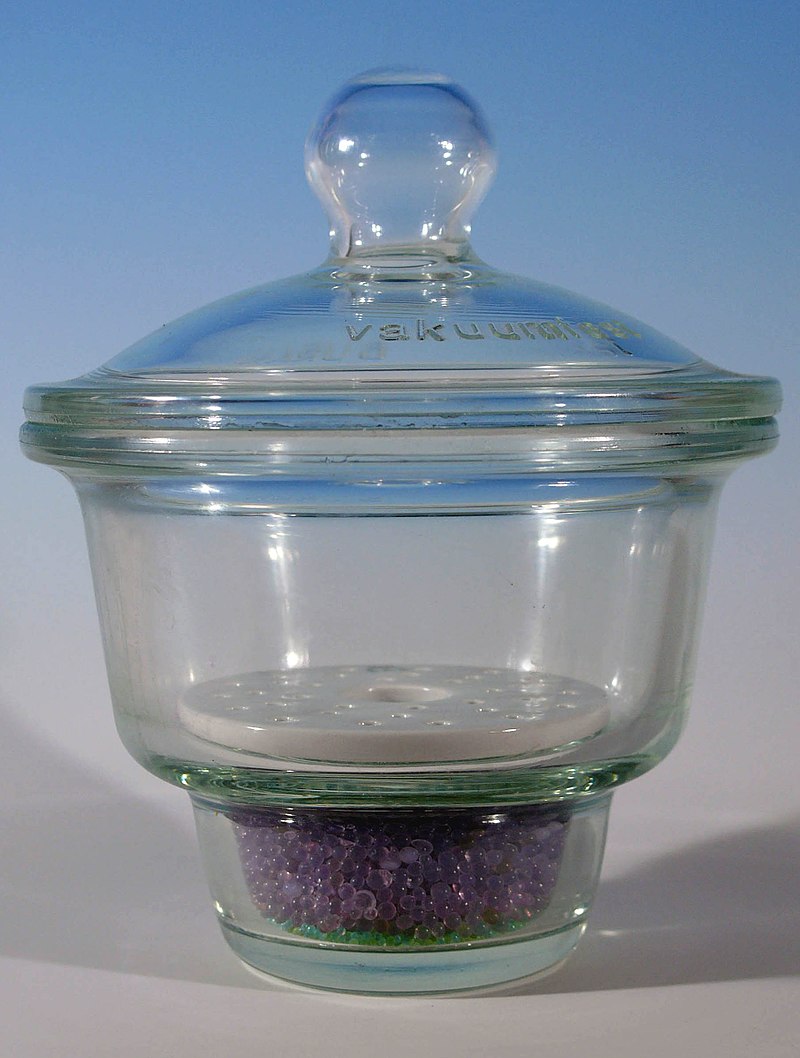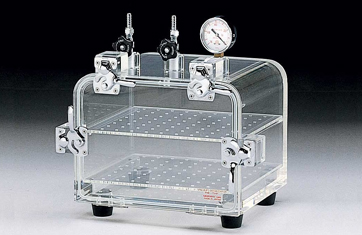 ​
The desiccator has a special shape to accommodate a lattice porcelain tray on which the bottles are installed. At the bottom of the desiccator, a hygroscopic substance is placed for drying or a solution that maintains a certain partial pressure of water vapor.

The desiccator should be opened by sliding the lid, and not lifting it, since otherwise the body may rise with subsequent separation and destruction. When carrying the desiccator, hold the lid with your thumbs to prevent slipping. When placing hot crucibles and other objects in the desiccator, leave the lid ajar so that when they cool, the pressure does not drop to a level that prevents the desiccator from opening.

Some desiccators are equipped with a tap hole for evacuating air or filling the desiccator with an inert gas. Vacuum desiccators should be covered with a cloth or wire cage during the first evacuation, as an explosion and fragmentation may occur due to manufacturing defects or glass tension. Some vacuum desiccators can withstand vacuum up to 0.0001 torr (0.0133 Pa).​
Application in a drug manufacturing.​
Every synthesis, where the final product is a solid substance, takes drying. Vacuum desiccators are widely spread in laboratory practice, especially in drug manufacturing. If you dry your product with help of vacuum desiccator, you receive absolutely dry product, which can be stored long time without loss of quality. In addition, this apparatus increases the drying speed and keeps the product intact with oxygen in the air.
​
Design.​
​
Desiccators: a-conventional; b-for work at reduced pressure (vacuum); 1-lid with a cut; 2-stand (shelf) for bottles with substance; 3-compartment for desiccant; 4-valve; 5-tap for connection to a source of reduced pressure.​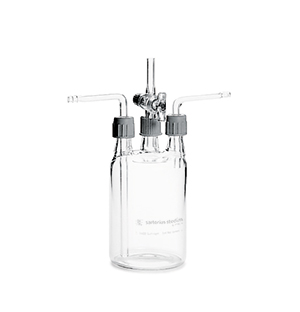 ​
Wolfe's Flask, or work with a water-jet pump (optional).
The safety bottle is usually connected to the outlet of the vacuum desiccator on one side and the water jet pump on the other. It performs a protective function - it does not allow water from the water jet pump to accidentally get into the desiccator in case of accidental shutdown.

The lower compartment of the desiccator contains lumps of silica gel, freshly calcined quicklime, Drierite or (not as effective) anhydrous calcium chloride to absorb water vapor. The substance needing desiccation is put in the upper compartment, typically on a glazed, perforated ceramic plate. The ground-glass rim of the desiccator lid must be greased with a thin layer of vacuum grease, petroleum jelly or other lubricant to ensure an airtight seal. In order to prevent damage to a desiccator, the lid should be carefully slid on and off instead of being directly placed onto the base.

A stopcock may be included to permit the desiccator to be evacuated. Such models are usually known as vacuum desiccators. When a vacuum is to be applied, it is a common practice to criss-cross the vacuum desiccator with tape, or to place it behind a screen to minimize damage or injury caused by an implosion.​
Desiccants.​
In laboratory use, the most common desiccators are circular and made of heavy glass. There is usually a removable platform, on which the items to be stored are placed. The desiccant, frequently an otherwise-inert solid such as silica gel, fills the space under the platform. Color changing silica may be used to indicate when it should be refreshed. Indication gels typically change from blue to pink as they absorb moisture, but other colors may be used.

Anhydrous calcium chloride is a cheap and widely used desiccant. Due to its high desiccant capacity, it is often used as a desiccant in desiccators. However, it dries slowly and is capable of forming compounds with many polar compounds. In addition, calcium chloride contains lime as an impurity, therefore, it cannot be used to dry acidic substances. In connection with the above, calcium chloride is not suitable for drying acids, alcohols, phenols, amines, amino acids, amides, acid nitriles, esters, some ketones and aldehydes. It is mainly used for preliminary drying of saturated hydrocarbons, olefins, halogen derivatives, acetone, ethers and some other compounds, as well as a filler for a calcium chloride tube during storage of dried substances. When saturated with moisture, calcium chloride first sticks together and then forms a solution phase.

Anhydrous sodium sulfate is a cheap neutral desiccant. Has a good drying capacity. However, it acts slowly and weakly binds moisture, therefore it is used mainly for preliminary removal of large amounts of water. It cannot be used to dry liquid aromatic hydrocarbons, chloroform, and lower alcohols, in which it dissolves in appreciable amounts. Finds limited use for drying halogen derivatives, aldehydes, ketones, organic acids, phenols and nitro compounds. When saturated, it sticks together and cakes.

Anhydrous calcium sulphate (dryerite, anhydrite) is a cheap neutral desiccant with a high moisture absorption rate, but a low desiccant capacity. Has extremely low solubility in organic media. Used for final drying of hydrocarbons, alcohols, ethers, esters, organic acids. When saturated, it sticks together, forming a dense crust (gypsum).

Anhydrous copper sulfate has a good desiccant capacity, but weakly retains moisture, therefore it is used mainly for pre-drying. It is rarely used due to its ability to react with many organic compounds. When saturated with moisture, it changes color from almost colorless to blue (copper sulfate).

Caustic soda and caustic potassium in molten form are good and fast drying agents, but find very limited use due to their high solubility and reactivity on contact with many polar organic compounds. Used exclusively for drying amines and ethers. Completely unacceptable for drying acids, esters, aldehydes, ketones, nitro compounds, phenols. Effective when dried in a desiccator from moisture and acidic solvents. When saturated with moisture, the granules of caustic alkalis spread out.

Potassium carbonate is a basic desiccant used for the final drying of amines, ethers and some ketones. Not suitable for drying acids and phenols.

Other major desiccants — soda lime, calcium and barium oxides — are primarily used in desiccant columns for gases and to replace calcium chloride in calcium chloride tubes. Calcium oxide (quicklime) is sometimes used to dry amines and alcohols. Completely unacceptable for drying acids, aldehydes, ketones, nitro compounds, phenols.

Phosphorus oxide (V) P2O5 (P4O10) is an active acidic desiccant. It is used for drying saturated hydrocarbons, halogenated derivatives and acids. Not suitable for drying compounds subject to acid-catalytic transformations - unsaturated hydrocarbons, alcohols, ethers and esters, aldehydes, ketones, amines. Good drying agent in desiccators, including vacuum. When saturated with moisture, it spreads.

Concentrated sulfuric acid has good drying capacity and moisture absorption rate. It is used for drying gases and in desiccators, but not for drying under vacuum and at elevated temperatures.

Silica gel is used in desiccators for deep drying from residual moisture or organic solvents.

Molecular sieves (sodium and calcium-containing zeolites) are used for efficient drying of organic solvents and gases and as fillers for desiccators. They have a significant drying capacity. Easily regenerated by heating in vacuum at 150–300 °С. Zeolite dryers are available with an applied moisture indicator - they change color when saturated with moisture.

Calcium chloride and silica gel can be restored after saturation with water vapor, placed in an oven for 3 hours at a temperature of 120 degrees.​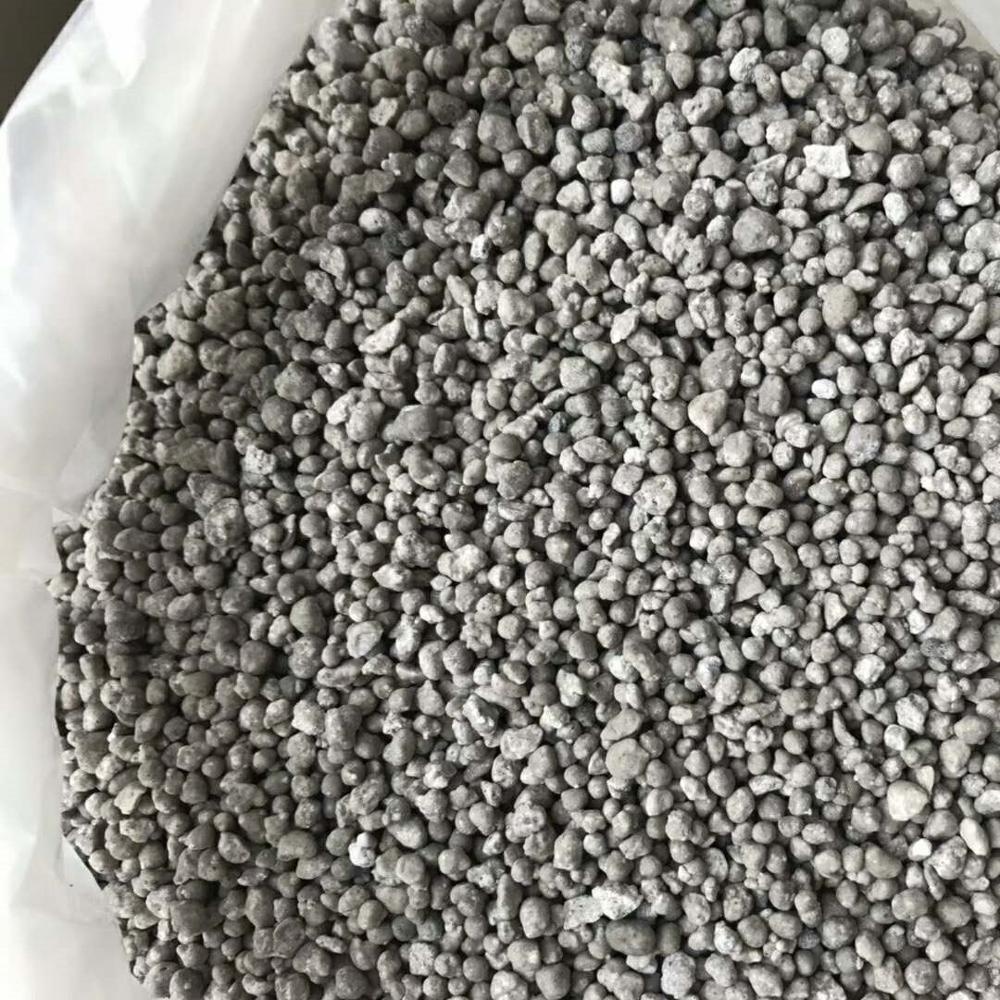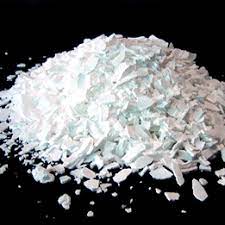 ​
Instruction.​
Check for stars, cracks and chips on the desiccator glass, their presence is unacceptable, because they can lead to an explosion when the pressure in the desiccator is reduced.

​

Slide the desiccator lid and remove it, grease the lapped surface of the desiccator with vacuum grease or Vaseline.

​

Place the desiccant in the desiccant compartment.

​

Install the stand (shelf) 2.​

Place the samples on the rack for drying in weighing bottles or on a Petri dish.

​

Close the desiccator lid with a sliding motion.

​

Close valve 4 connecting the bottle to the atmosphere.​

Turn on the water jet pump (or diaphragm/oil pump) and check for vacuum.

​

Connect the vacuum pump hose to the tap 5.​

Open the valve slowly to evacuate air from the desiccator, leave the desiccator in this position for a while.​

When the sample looks dry enough, you can close valve 4 and only then turn off the pump. Disconnect the hose.​
Important: do not turn off the vacuum pump with the desiccator valve open, 4! This will cause water to be sucked out of the water jet pump.​
After disconnecting the vacuum hose, leave the desiccator with a vacuum for a while (for residual drying) or slowly release the vacuum with a valve 4.​
Important: do not open valve 4 abruptly, as this may result in an explosion or breakage of the glass/samples in the desiccator.​
Suppliers.

​

​
Last edited: