Joined

Jul 5, 2021
Messages

2,291
Solutions

3
Reaction score

2,120
Points

113
Deals

1
Description.​
A magnetic stirrer or magnetic mixer is a laboratory device that employs a rotating magnetic field to cause a stir bar (or flea) immersed in a liquid to spin very quickly, thus stirring it. It is used in chemistry and biology where other forms of stirring, such as motorized stirrers and stirring rods, may not be viable for use. Magnetic stirring is a widely used method of stirring and mixing in liquid media. This process can be used over a broad temperature range and with virtually any chemical agent, as well as in open and closed systems, under pressure or vacuum.​

Application.​
Magnetic stirrers are often used in chemistry and biology, where they can be used to stir hermetically closed vessels or systems without the need for complicated rotary seals. They are preferred over gear-driven motorized stirrers because they are quieter, more efficient, and have no moving external parts to break or wear out (other than the simple bar magnet itself). Magnetic stir bars work well in glass vessels commonly used for chemical reactions, as glass does not appreciably affect a magnetic field. The limited size of the bar means that magnetic stirrers can only be used for relatively small experiments, of 4 litres or fewer. Stir bars also have difficulty in dealing with viscous liquids or thick suspensions. For larger volumes or more viscous liquids, some sort of mechanical stirring (e.g., an overhead stirrer) is typically needed. In synthetic chemistry, a combined magnetic stirrer/heater, equipped with a built-in temperature control mechanism and temperature probe, is commonly used with a heating bath (commonly oil, sand, or low-melting metal) or cooling bath (commonly water, ice, or an organic liquid mixed with liquid nitrogen or dry ice as coolant), allowing reactions vessels placed in the bath to be maintained at temperatures between approximately from –120 to 250 °C.​
In a drug manufacturing
As a rule, magnetic stirrers are used in most small-scale syntheses with a volume of 5 ml-1 L (up to 4 liters). It is the most commonly used laboratory equipment and can be used for most synthesis stirring.
For instance, you have to use magnetic stirrer in almost every step of MDMA synthesis:
Dissolve 33 ml of isosafrole in 51 ml DCM. Add this slowly to the peracetic acid, and let the temperature not rise over 40 *C. You should place the flask on a magnetic stirrer in an icebath while doing this. After everything is added, let the ice-bath come to room temperature by itself, and leave it to stirr overnight, with some foil over the top of the flask. The color will go from yellow to orange to deep red, distill off the DCM and distill off the acetic acid. A dark, thick syrup will remain.
For the synthesis of other phenylethylamines, such as 2C-B, DOM, MDA, MESCALINE, TMA
, you need apply stirring. The best choice is a magnetic stirrer:
The white oil, 27.6 g, was dissolved in 50 mL H2O containing 7.0 g acetic acid. This clear solution was vigorous stirred, and treated with 20 mL concentrated HCl. There was an immediate formation of the anhydrous salt of 2,5-dimethoxy-4-bromophenethylamine hydrochloride (2C-B).
A suspension of 9.5 g LAH in 750 mL well stirred anhydrous Et2O was held at reflux under an inert atmosphere, with the return of the condensed solvent passing through a Soxhlet thimble containing 9.5 g 1-(2,5-dimethoxy-4-methylphenyl)-2-nitropropene. After the addition of the nitrostyrene was complete, the stirred suspension was maintained at reflux for an additional 4 h, then cooled to room temperature and allowed to continue stirring overnight.
In
mephedrone synthesis,
you have to use this equipment in following stage:
To prevent the solution from boiling, add methyl amine in a thin stream from a drop funnel or divide the addition of methyl amine into 2-3 parts and pour in equal portions on moderate stirring without splashing. After all the methyl amine has been added, keep stirring for two hours at 40 ºC.​
Design.​
The basic system consists of two components:A stirrer magnet placed in the liquid and a magnetic drive located outside the vessel. Both, stirrer magnet and magnetic drive form a magnetic circuit. For trouble-free stirring in liquids with different viscosities, the magnetic drive shall have a wide range of different speeds. That is why the strength and form of the magnetic circuit between stirrer magnet and drive magnet is so important.​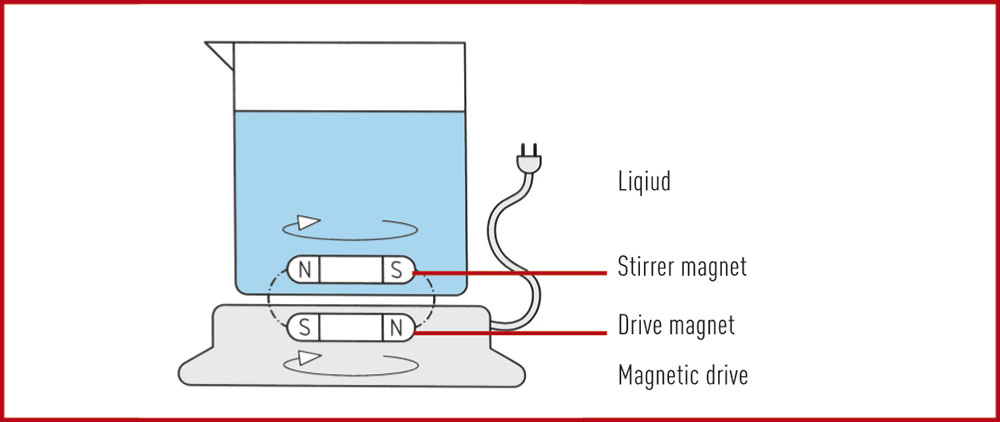 The stirrer magnet is a bar magnet encapsulated in a material which protects the magnet and prevents contamination of the liquid medium.

The core of the stirrer magnet is usually Alnico V, a less used alternative is Samarium-Cobalt (types of magnetic alloys). Due to its exceptional chemical and thermal (-200 °C to +260 °C) properties, Polytetraflouroethylene is the most preferred encapsulant. It can easily be processed.​
Types of stirring bar.​
An essential accessory for the magnetic hotplate stirrer is a magnetic stir bar. Modern stir bars have an exterior polytetraflouroethylene (PTFE) shell and contain a strong permanent magnet on the inside. The stir bar is placed directly inside the media which you want to stir, and the vessel containing the media is placed directly on top of the heating surface of the hotplate. The PTFE shell, being inert, prevents the stir bar from reacting with the media. Visible on the circumference of the stir bar is a spin or pivot ring which allows the bar to spin freely when placed on a flat surface.

In principle, it is difficult to find the most effective magnetic stirring bar for a particular application, but important factors are the vessel shape and the viscosity of the stirring medium. In a Petri dish, a long stirring bar at low speed will be effective, in a round bottom vessel egg-shaped (oval) magnetic stirrers will be a suitable choice. The ideal configuration is where the magnet of the stirring bar and the magnet of the drive are of equal length and with a minimum distance between them.​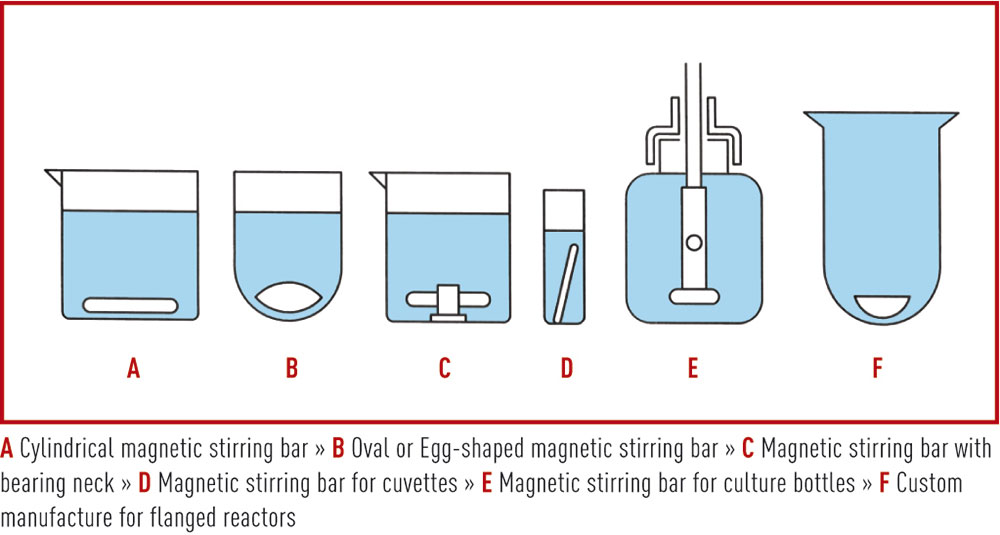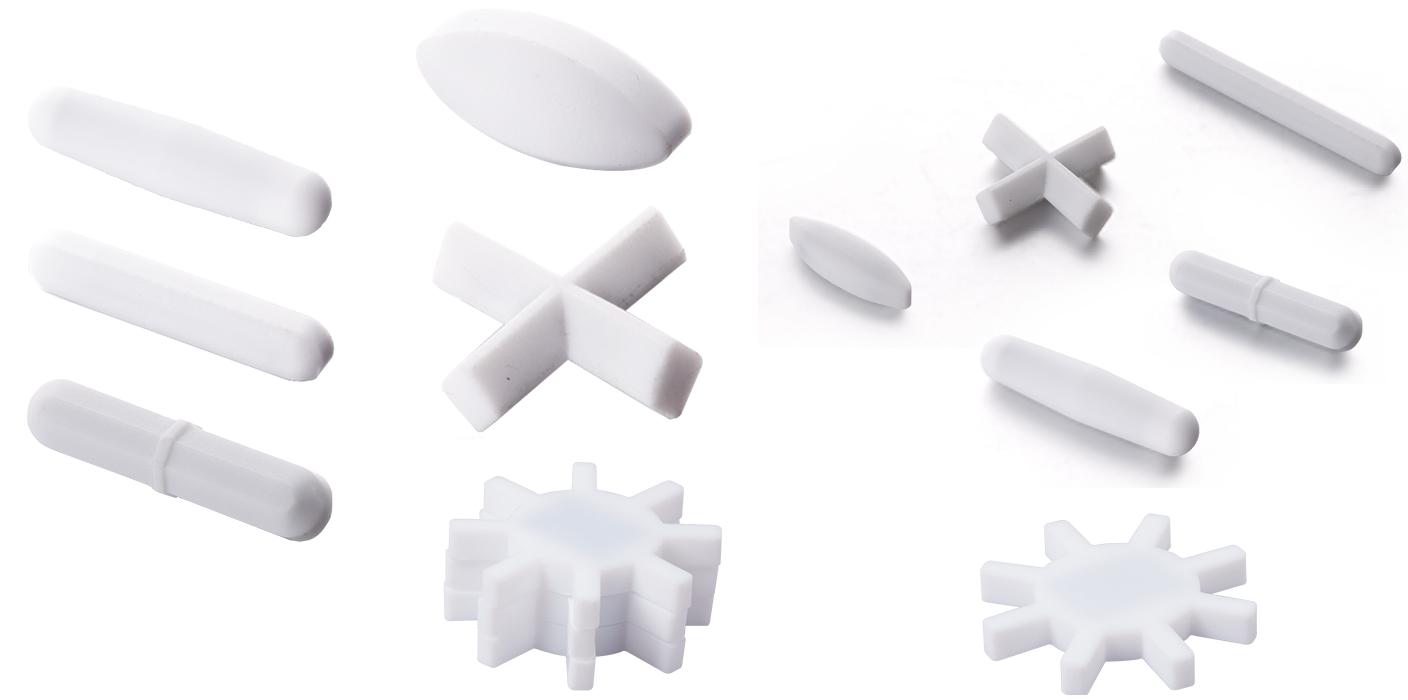 The increase of the magnetic strength by using a SmCo magnet may be advantageous for many applications. However, this can have also negative consequences:​
Migration:
Where the stirrer magnet and drive magnet have very different lengths, the stirrer magnet can migrate to a pole of the drive magnet.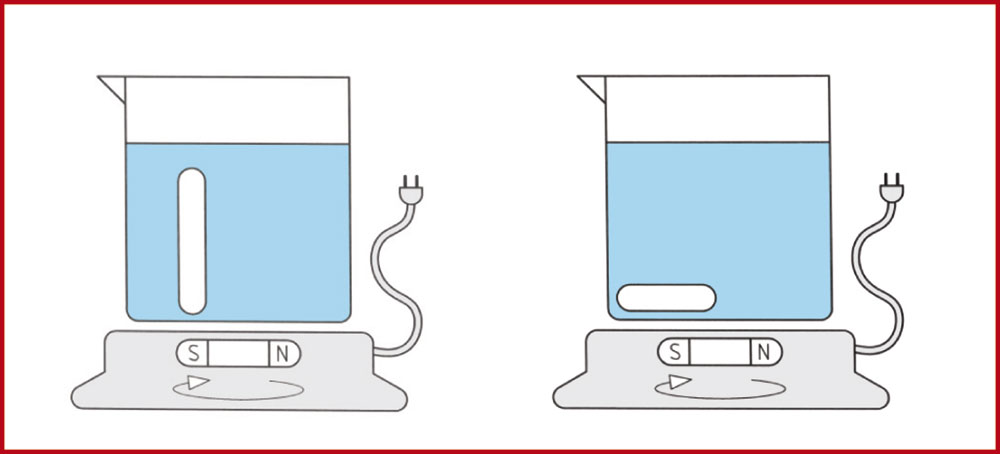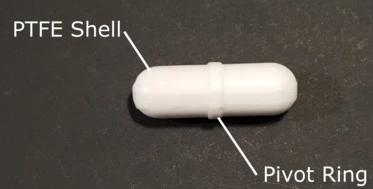 Braking:
A compelling force between drive and stirrer magnet can result in a braking effect. Due to the pressure of the stirrer magnet on the bottom of the vessel, the speed of rotation is reduced and rotation can even be prevented.
In general, no advice for or against a certain stirring bar form can be given. In case of doubt, a test of different stirring bars under your own conditions may be helpful.
The second part of this stirring system is the magnetic drive that consists in its simplest form of a simple, speed controlled induction motor or a stepper motor. In some cases, the motor incorporates automatic reversing to improve mixing. Normally, the drive magnet is a simple square bar magnet, a U-magnet or a composite SSMCmagnet. Its rotation induces rotation of the stirrer magnet in the liquid. The designated speed can be adjusted by an incorporated speed control.
If you've lost your magnetic stirrer and don't have a spare, you can use a metal clip or another small metal bar as a stirrer. The metal bar will spin in a magnetic field and stir your liquid.​
Magnetic Hotplate Stirrer​
Hotplate stirrers combine both mixing and heating processes, allowing for faster and more even heating to fluid media. If you have ever tried heating a slurry without mixing, or trying to control violent boiling, you will understand what an absolute necessity a good hotplate stirrer is to the lab.​
A magnetic hotplate stirrer has the following essential components: A control panel on the front with adjustment knobs, rubber or plastic feet on the bottom to raise the electric device above the potentially damp working surface, a power switch on the side (if not integrated into the adjustment knobs), the heating surface on top, and a power cord from the bottom or from the back. The heating wire and rotor lie underneath the heating surface of the magnetic stirrer (drawing not to scale).​
In the hot plate, a magnetized rotor sits below the heating surface, which allows the machine to interact with the stir bar. In all electronic stirrers, the magnetized rotor will either be a permanent magnet or an electromagnet. On the hotplate sold by Verich, a permanent magnet sits on the rotor, which spins freely below the heating surface. This magnet can be seen in the gap below the heating surface.​
Hotplate operation
Once the hot plate has been turned on and the media plus stir bar have been fastened overhead (such as with a clamp and stand), you are ready to begin heating and mixing. On the front of the hotplate are two knobs. These are the variable knobs for both heating and mixing, allowing for fine control over the process. Start by turning on the stirring to an appropriate level. Typically, this will be enough to ensure the top layers of fluid inside the vessel thoroughly mix with the bottom layers. If it does not look like the top is being disturbed enough, increase the stirring setting.
Next, turn on heating by turning the heating knob. A slight buzzing may be heard as the hotplate increases the current supplied to the heating coils below the heating surface. Since this is a high-current, high-temperature scenario, sometimes current limiters are placed in the device for safety. For example, in the Verich hotplate a fuse will disable the heating system if the current supplied to the coils becomes too high (such as in the case of a power supply fault, or if there is extreme wear on the device).

Heat output varies from device to device. Depending on the size of the hotplate, it may take between 10 and 25 minutes to heat a litre of water from room temperature. Consider pre-boiling your media from a more aggressive heat source such as from a gas burner or kettle and using the hotplate only to maintain the temperature while stirring.​
Suppliers​
There are many companies, which produce and sell these laboratories' equipment. Your choice depends on your budget.
Joanlab
https://www.joanlab.com
IKA
https://www.ika.com
Thermo Fisher Scientific
https://www.thermofisher.com
Scilogex
https://www.scilogex.com/
Labnet International
https://www.labnetinternational.com/
There is a price list for magnetic stirrers with heating plat and without it from mentioned above suppliers. All prices are valid as of 11.2021.​

Last edited: