Joined

Jul 19, 2021
Messages

580
Reaction score

347
Points

63
1. Diphenylacetonirile.

1. 1000 g of benzyl cyanide is placed in the flask and heated to 110 *C.
2. 1500 g of bromine is added over of 2 hours with good stirring. The temperature is maintained at 110 *C.
3. After the reaction mixture cooled below 80 *C, added 1000 ml of benzene.
4. In another flask added 3000 ml of benzene and 1200 g of powdered AlCl3, start stirring and heated to refluxing.
5. The Solution of step 3 is added to the boiling mixture of step 4 over of 2 hours in small portions.
6. After, the reaction mixture is refluxed for an additional hour and cooled.
7. Added of 5 kg of crushed ice and 600 ml of concentrated hydrochloric acid.
8. The benzene layer is separated and washed with sodium bicarbonate aq.soln and clear water.
9. The benzene is removed by heating on a steam bath and cooled, сrystallizing a yellow solid.
10. The solid is recrystallized from IPA (1 ml per g) at room temperature without shaking or stirring.
11. The crystals are then collected and washed with chilled isopropyl alcohol.
12. The yield of pure white product 900 g.
2. Dimethylamino-2-propanol.

1. Propylene oxide (1000 g) and dimethylamine 40% (2600 ml aq. soln.) were added in flask.
2. Stirring at room temperature for 24 hours.
3. Extracted with 1500 ml diethyl ether (or DCM), washing extract with water and dried over anhydrous Na2SO4.
4. The solvent was removed under reduced pressure to give the dimethyaminel-2-propanol in the almost pure form (1500 g).
3. Dimethylamino-2-chloropropane hcl.

1. 1000 g of dimethylamino-2-propanol and 2000 ml of DCM was cooled with stirring to about ice-water bath.
2. A solution of 1500 g thionyl chloride in 1000 ml DCM was added.
3. Left at room temperature and stirring for an 1 hour, after heated to the reflux another 1 hour. The precipitated material redissolved on heating.
4. Dimethylamino-2-chloropropane hydrochloride began to precipitate from the boiling solution.
5. The reaction mixture was cooled and filtered, washed cold IPA on filter. Yield 1500 g.
4. 4-cyano-2-dimethylamino-4,4-diphenylbutane.

1. 1200 g of sodium hydroxide, 1500 g diphenylacetonitrile and 1500 g of dimethylamino-2-choropropane hcl were mixed in a flask.
2. Heated with occasional stirring for 6-7 hours, with the temp at 100 *C.
3. The reaction mixture was then extracted with ether and the ether in turn extracted with dilute aq. HCl acid 5%.
4. The acid solution was made strongly alkaline with 25% sodium hydroxide solution, and the liberated base extracted with ether.
5. The ether solution was dried over anhydrous potassium carbonate, filtered and the ether distilled off.
6. The residue was vacuum distilled to give 1700 g of product.
7. It was then recrystallized from petroleum ether to give 900 g of 2,2-Diphenyl-3-methyl-4-dimethylambutyronitrile.
5. Ethylmagnesium bromide.
1. 160 g magnesium turnings were placed in a flask.
2. Add 1200 ml ahydrous tetrahydrofuran and 1 g of iodine crystal.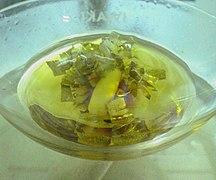 3. When heated, bromoethane solution is added dropwise.
4. After completing the addition, the mixture is heated for some time.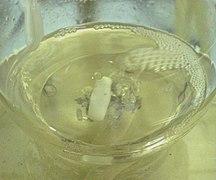 5. Grignar reagent formation completed. A small amount of magnesium remains in the flask.
6. Methadone hcl.
1. A solution of 900 g of 2,2-Diphenyl-3-methyl-4-dimethylaminobutyronitrile in 700 ml of hot (65 *C) anhydrous xylene was prepared and was added to a stirred solution of ethyl magnesium bromide.
2. The mixture thereafter heated under reflux for 3 h.
3. The condenser was arranged for distillation, and 5000 ml of 10% HCl was added to the mixture, and the organic solvent distilled from the reaction mixture.
4. The residue was then transferred to a beaker and 2000 ml of benzene added, whereupon three layers formed
5. Upon standing, the Methadone hydrochloride, which crystallized from the oily middle layer, was collected and dried to give 960 g.
Last edited by a moderator: