Introduction
L-Ephedrine, a compound with diverse applications, can be synthesized efficiently and economically using innovative methods. Traditional approaches involve extracting it from various Ephedra plant species, a process known for its time consumption, cost, and complexity due to the presence of unwanted byproducts. Alternatively, the chemical conversion of L-Phenylacetylcarbinol (L-PAC), a precursor for ephedrine, has proven to be superior to the extraction route.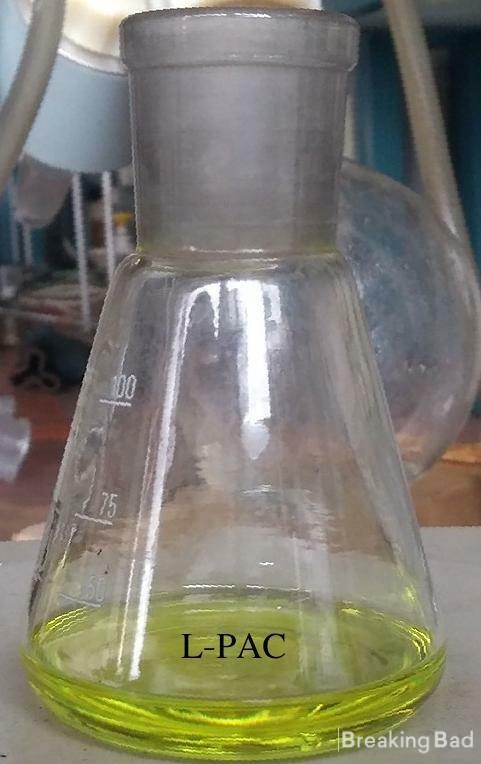 This method offers advantages like higher selectivity and quicker reaction times. Microwave irradiation, a key component of this process, is increasingly valuable due to its ability to accelerate reactions while maintaining high conversion rates. This article explores this novel approach to L-ephedrine synthesis.
Equipment and Glassware
For successful L-ephedrine synthesis, specific equipment and glassware are essential. This includes:
100 mL Round-bottom flask
Ice
pH indicator paper
Pasteur pipette
100 mL Drip funnel with pressure equalization
Retort stand and clamp for securing the apparatus
Magnetic stirrer
Beakers (100 mL x4, 50 mL x2)
500 mL Separatory funnel
Calcium chloride (CaCl2) tube
Flash chromatography kit (middle column and silica gel 60 ± 120 mesh)
IFB Neutron kitchen oven (760 W output and 2450 MHz frequency)
Vacuum source
Glass rod and spatula
Rotovap machine
Laboratory scale (0.01-100 g, depending on synthesis load)
Measuring cylinder (100 mL)
Reagents
The reagents required for the L-ephedrine synthesis process are as follows:
L-PAC (0.03 moles, 4.5 g) [CAS Number 1798-60-3]
Ethanol (EtOH) (~150 mL)
Hydrochloric acid conc. (HCl) aq. solution (~20 mL)
Methylamine 40% (v/v) solution (CH3NH2) (9 mL)
Diethyl ether (Et2O) (200 mL)
Sodium bicarbonate (NaHCO3) (~50 g)
Distilled water (65 mL)
Sodium sulfate anhydrous (Na2SO4) or magnesium sulfate (MgSO4) (~100 g)
Ethyl acetate (EtOAc) (~500 mL)
Toluene (~400 mL)
Sodium borohydride (NaBH4) (0.09 moles, 3.24 g)
Procedure
The synthesis process can be divided into two key steps: Step 1: Conversion of L-PAC to 2-(Methylimino)-1-phenyl-1-propanol (2)
Combine L-PAC (0.03 moles, 4.5 g) with ethanol and adjust pH to 4 using conc. HCl.
Add methylamine solution (40% v/v) dropwise with stirring.
Irradiate the mixture with microwaves for 3 min at 50% power.
Continue the reaction for 6 min (two cycles of 3 min at 50% power), adding methylamine during each cycle.
After microwaving, cool the mixture, adjust pH to 4, and wash with ether (25 mL x 3).
Neutralize the aqueous layer with NaHCO3 and extract with ether (25 mL x 3).
Dry the ether layer with sodium sulfate and remove ether using a rotavap to obtain product (2).

Step 2: Conversion of 2-(Methylimino)-1-phenyl-1-propanol (2) to Ephedrine
Combine imine (2) with ethanol.
Gradually add sodium borohydride (NaBH4) with microwave irradiation.
Complete five cycles of 2 min each at 50% power.
Cool the mixture, add ice-cold water, and extract with ether (25 mL x 3).
Wash the combined ether layers with cold water, dry with sodium sulfate, and remove ether using a rotavap.
Purify the product through column chromatography.
This innovative approach to L-ephedrine synthesis using microwave irradiation offers a more efficient and cost-effective alternative to traditional methods. It enhances reaction rates, selectivity, and scalability, making it a promising method for industrial applications.

Advantages of Microwave-Assisted L-Ephedrine Synthesis
One of the standout advantages of microwave-assisted L-ephedrine synthesis is its exceptional efficiency. By harnessing the power of microwaves, this method significantly accelerates chemical reactions, allowing for rapid transformations of L-PAC into valuable L-ephedrine. This is especially important in industries where time is a critical factor in production.
Another noteworthy benefit is the enhanced selectivity. Microwave irradiation promotes high conversion rates while minimizing unwanted side reactions, resulting in a cleaner and more straightforward synthesis process. This selectivity can lead to improved yields and reduced waste, aligning with modern sustainability practices.
Future Implications and Applications
The successful application of microwave irradiation in L-ephedrine synthesis opens up new possibilities for chemical manufacturing across various industries. Researchers and industries alike are increasingly exploring microwave-assisted synthesis for other complex compounds due to its efficiency and scalability. As the demand for pharmaceuticals, fine chemicals, and specialty compounds continues to grow, innovative techniques like microwave-assisted synthesis will likely play a pivotal role in meeting these demands while reducing production costs and environmental impact.
In summary, microwave-assisted L-ephedrine synthesis not only streamlines the production of this valuable compound but also showcases the potential for revolutionizing chemical manufacturing processes across the board. As technology advances and our understanding of microwave-assisted synthesis deepens, we can anticipate even more significant developments in the field of chemistry and chemical engineering.