Mephedrone Synthesis: Crafting Crystals with Precision
Introduction: Crafting Mephedrone
Unveil a synthesis method for mephedrone that seamlessly balances simplicity, efficiency, and high yield. This time-tested procedure, born from the wealth of knowledge on the legendary Hive forum, pays homage to the collective wisdom of countless contributors.
Reaction: A Meticulous Choreography
Dance of the Elements
Gather the Ensemble: Prepare your reagents - 2-bromo-4'-methylpropiophenone (CAS 1451-82-7) 500 g, Methylamine 40% aq 750ml, Hydrochloric acid (HCl 37%) approximately 250 ml, Distilled water, Dichloromethane 2,3l, and Tetrahydrofurane (THF) or Aceton.

Choreograph the Flask: Pour 1.5 liters of Dichloromethane (DCM) into the reactor/flask and attach a condenser.

Enter the Star: Add 2-bromo-4'-methylpropiophenone 500 g (CAS 1451-82-7) and stir until it's fully dissolved.

Guest of Honor: Introduce Methylamine 40% aq, 750ml slowly via a drip funnel.

The Dance Begins: Stir the mixture for 2 ½ hours at 38 °C.

Curtain Call: Quench the reaction by adding 7000ml of ice-cold clean tap water.

Intermezzo: Stir the mixture for 1-2 minutes, then separate the DCM layer.

The Residue's Turn: Extract the remaining freebase with 500 ml DCM.

Rinse and Repeat: Wash the combined organic layers twice with 300 ml of water.

A Twist of Acid: Acidify the combined washed organic layers with 2 M hydrochloric acid until reaching pH 5.5-6 with constant stirring.

A Final Rinse: Wash the acidic extract with 300 ml DCM and evaporate the water under vacuum until a viscous liquid forms.

The Grand Finale: Pour the mixture into a buchner funnel, carefully filter, and then apply vacuum until you obtain an off-white solid.

The Encore: Rinse the crude mephedrone hydrochloride thoroughly with cold THF (acetone can be used if THF isn't available).

The Spotlight: Place the washed product in a Pyrex dish and dry it until a constant weight is achieved.
The Ovation: Impressive Yield
The result of this meticulously orchestrated synthesis is an impressive yield of 310.57g, representing 79.59% of the theoretical yield.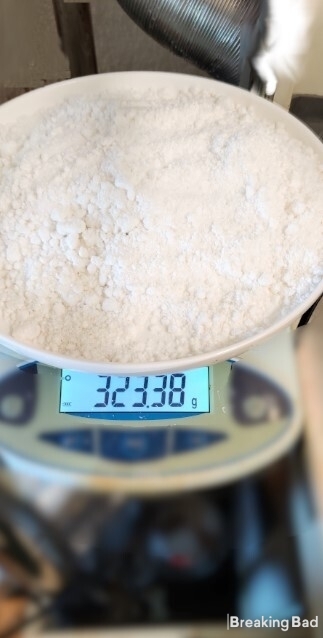 Additional Insights: The Fascination of Mephedrone Synthesis
Mephedrone synthesis, while a subject of concern due to its association with designer drugs, is also an intricate and fascinating field of study. This process underscores the intricate dance between reagents, temperatures, and meticulous procedures required to produce crystalline compounds. Furthermore, it highlights the need for responsible research and awareness about the consequences of engaging in the synthesis of controlled substances.