Joined

Jul 25, 2021
Messages

121
Reaction score

105
Points

43
We'll consider mephedrone (4MMC) synthesis in this article. Dichloromethane (DCM) is used as a solvent. It has a low boiling point (~40 °C) and synthesis procedures take a little time.
​
Work conditions:
Air temperature 20-24 ºC;

Relative humidity <60%;

Well-ventilated room (with air intake/exhaust hood);

Access to water and electricity;
Main stages:
3. Separation/cleaning of the free base;
​
Bromination
1. 4'-Methylpropiophenone (cas 5337-93-9) 1000g and DCM 3000 ml is placed into a 10 l flask, stirred until a homogeneous solution is obtained.
2. A portion of bromine (Br2) 1000 g, 330 ml is poured into a drip funnel.​
​
It is important to know: Work with bromine takes special safety measures because the substance is very corrosive and toxic. Every surface, which has contact with bromine, will be completely spoiled. It is better to use long graduated pipette or graduated cylinder in order to measure volume of this substance. Bromination have to be carried out outside or in a well-ventilated room by reason that bromine is very volatile. The procedure isn't tricky but takes an attention. All glassware, which will be used for manipulations with bromine, must be cooled and absolutely dried.

3. Hydrochloric acid (HCl 36% aq) 50 mL is added into the reaction mixture. It is the catalyst of bromination reaction. A weak stirring is turned on and bromine addition is started.
4. The first portion of bromine ~50 ml is added. The solution is turned brown and eventually is discolored. It means that the bromination reaction is taken place. You have to wait this moment, and not pour out all bromine in a one portion to avoid a violent exothermic reaction with a subsequent boiling off of the solution.
5. Bromine is added from the drip funnel to the solution dropwise, when the first Br2 portion is discolored, in order to a smooth reaction course. If the solution begins to boil, the addition of bromine have to be stopped until the solution is cooled to 30-35 ºC.
​
​
It is important to know: Hydrogen bromide is released during bromination. It is the caustic white gas (acid). It takes respiratory organs and eyes protection (full face mask) and well ventilated exhaust fumes hood.​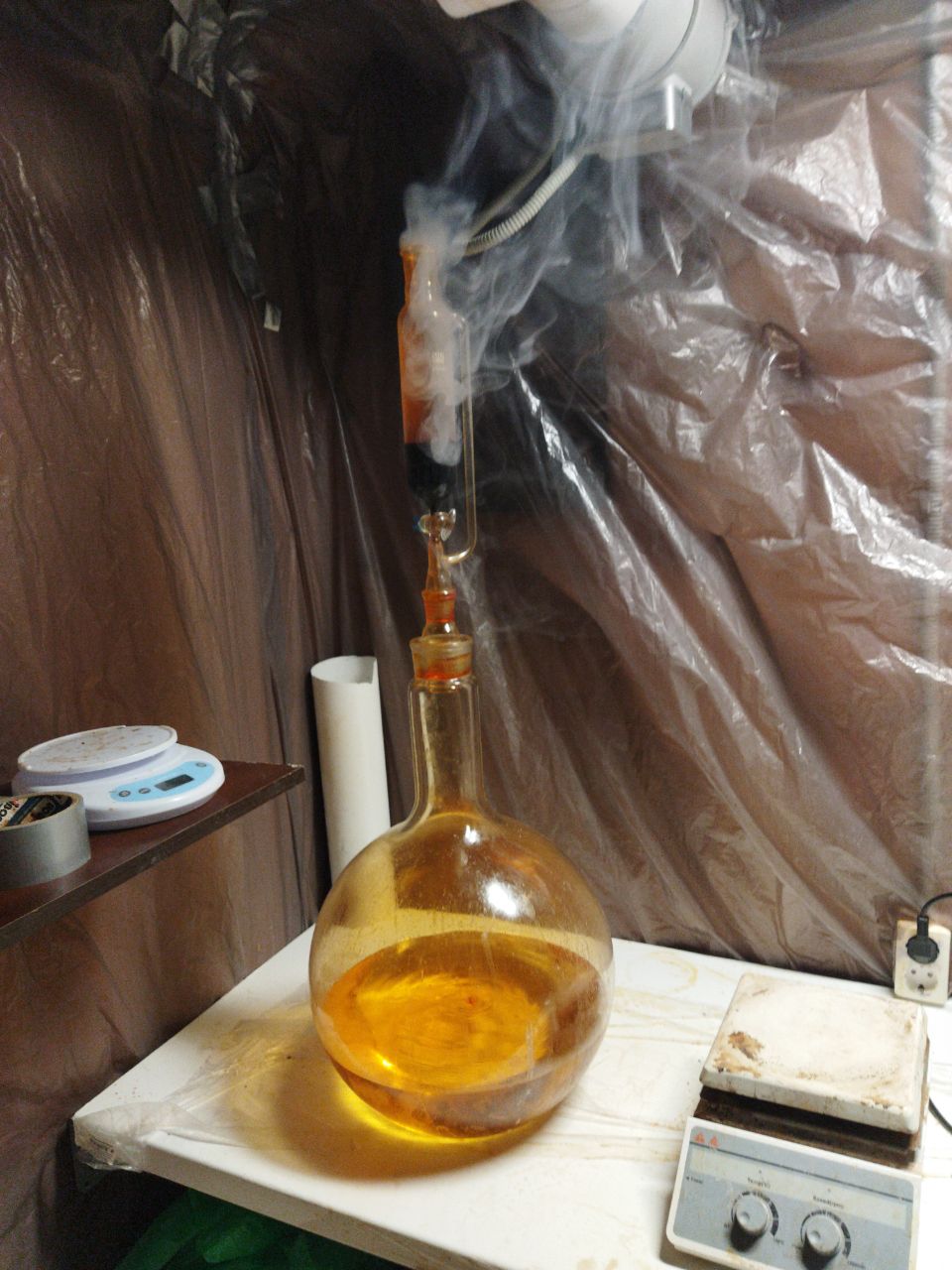 ​
6. It is necessary to make sure that the reaction has been completed after all the bromine has been poured in: reaction temperature is stopped to rising, the solution is stopped to discoloring. Then, the reaction mixture is stirred for 30-60 min.

7. Obtained solution is washed from remaining bromine, it positively influence on the final product quality. The reaction mixture is washed with an equal volume of sodium thiosulfate (Na2S2O3) 10% solution or sodium bicarbonate (NaHCO3) 10% solution. The solutions is stirred well for 10 min, layers are clearly separated. The lower organic layer is taken for further manipulations. The top layer is disposed.

8. Next, the reaction mixture is washed with an equal volume of water to
neutral pH
. The washing procedure of the organic layer can be repeated several times, if it is necessary. The reaction 2-Bromo-4'-methylpropiophenone (cas 1451-82-7) yield is ~1400g, which is already dissolved in DCM.
​
Methylamination
9. Methylamine 40% aqueous solution is added to the solution from previous reaction. This reaction is also exothermic, so that methyl amine is added at slow rate in order to avoid the solution boiling. This influences on the reaction yield. Methylamine is taken in excess by reason that it is partially evaporated during the reaction. The average proportion is 2 ml per 1g of 2-Bromo-4'-methylpropiophenone. Methylamine 40% aqueous solution 2800 ml is added to 2-Bromo-4'-methylpropiophenone 1400 g. Methylamine is added via drip funnel in a thin flow or It is divided to 2-3 portions and poured in equal portions with a moderate stirring without splashing.

10. The reaction mixture is stirred for 2 h at 40 ºC.​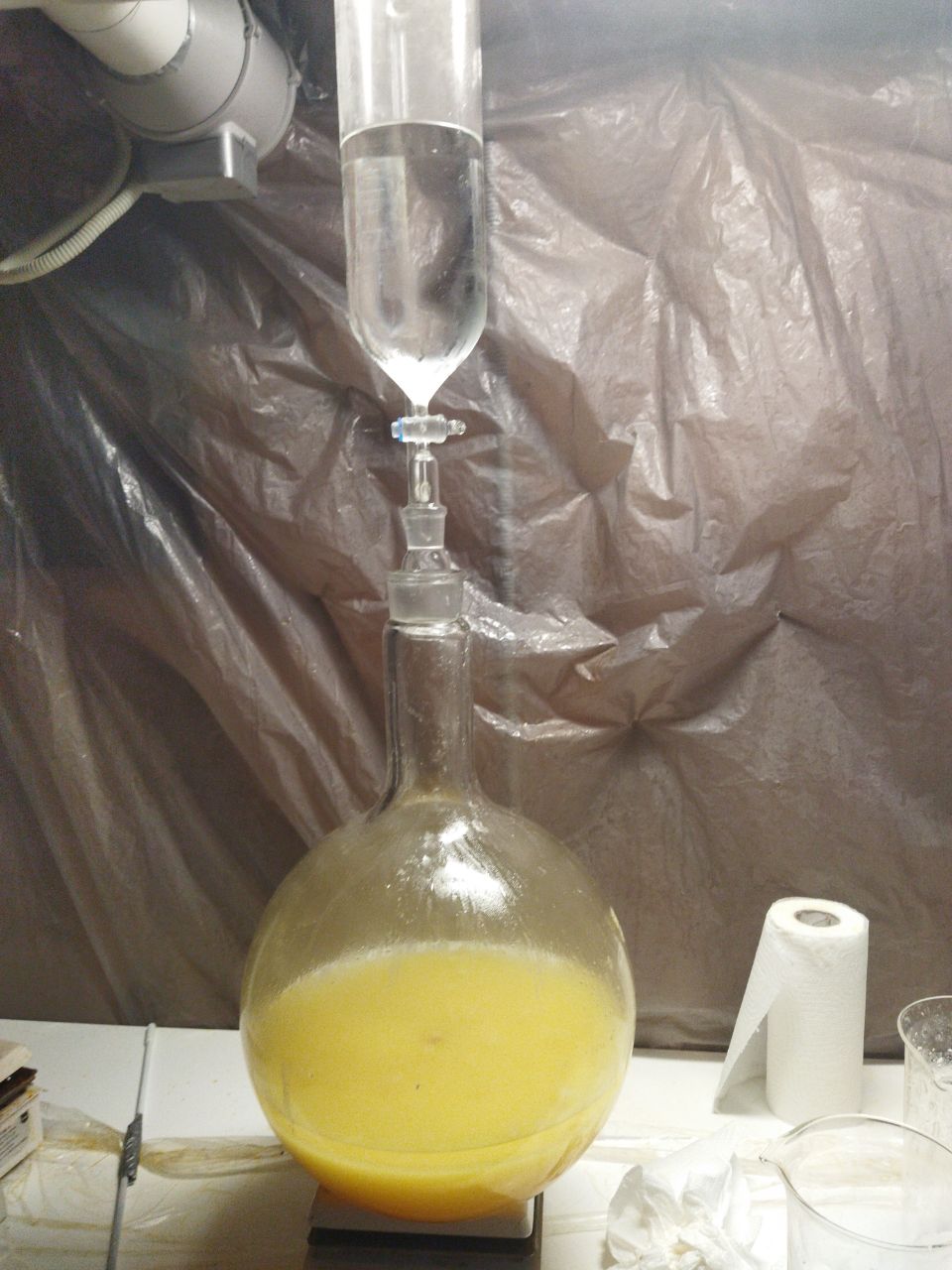 ​
Free base separation and purification
11. After the mixture from the previous part is processed, the free base is washed and separated. The lower organic layer is separated from the upper aqueous layer. The organic layer is washed as described in step 7 (same procedures), the upper layer is scrapped. The organic layer washing is repeated several times until methylamine smell is disappeared.​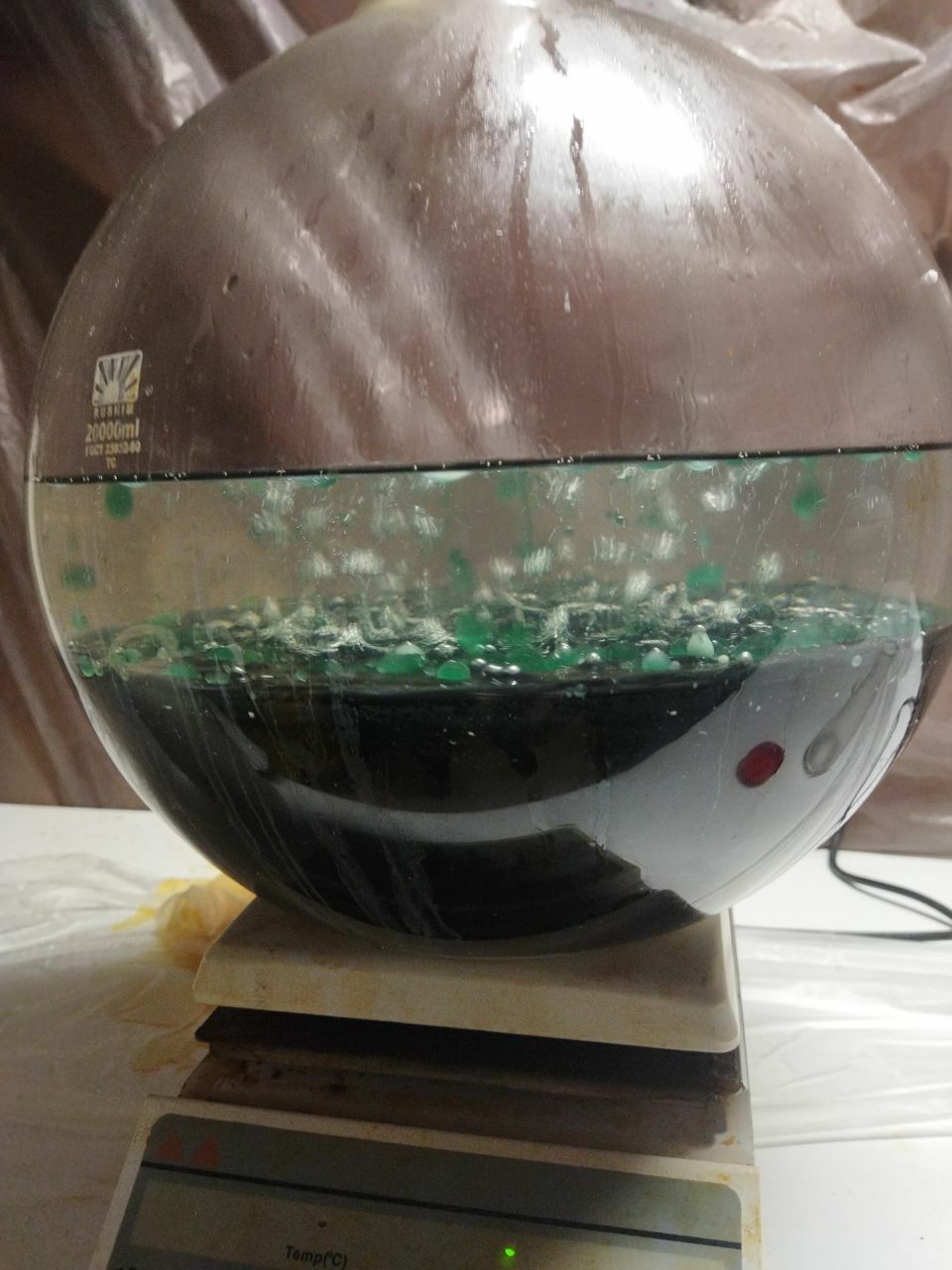 ​
12. The mephedrone (4-MMC) free base DCM solution yield is ~3000 ml. If the organic layer is too small after methylamination, pour DCM 1-2 L. This will help to extract 4-MMC free base better. Then, layers are separated and an aqueous layer is disposed.

13. It is very important to separate the organic layer from the water. To be sure, you can put the DCM solution in the freezer, the remaining water will freeze and easy to separate. Also, you can dry your solution by anhydrous magnesium sulphate (MgSO4). If the water is left, problems with precipitation in the next step can happen during acidification.​
Acidification
14. The resulting mephedrone free base in the DСM is treated with hydrochloric acid. The best way salt production is
HCl gasification
. A 35-38% HCl hydrochloric acid water solution in acetone or isopropanol is also used in the ratio of 1 ml of hydrochloric acid per 10 ml of solvent (1:10).

The acid is added in small portions with a constant stirring. If the reaction mass become to thick, it is diluted with acetone. The mixture should be liquid enough in order to acidify 4-MMC free base evenly. White gas (HCl) is actively released during this procedure. Respiratory organs and eyes protection have to be used. In order to minimize the release of gas, it is recommended to cool the solution. During the acidification process, it is important to control the pH. At 5.5-6 pH, the acidification is stopped. The mixture is put into a freezer for several hours. After that, the product is filtered and dried. pH is controlled with
pH indicator paper
.
​


Purification and crystallization instructions:
​
Last edited by a moderator: