Joined

Jul 25, 2021
Messages

187
Reaction score

229
Points

43
This video represent a simple synthesis way of 4-MMC (mephedrone) in a small scale from 4'-methylpropiophenone. There is total synthesis video manual which explain everything and gives opportunity to make 4-MMC to every beginner of organic synthesis.
Equipment and
glassware
: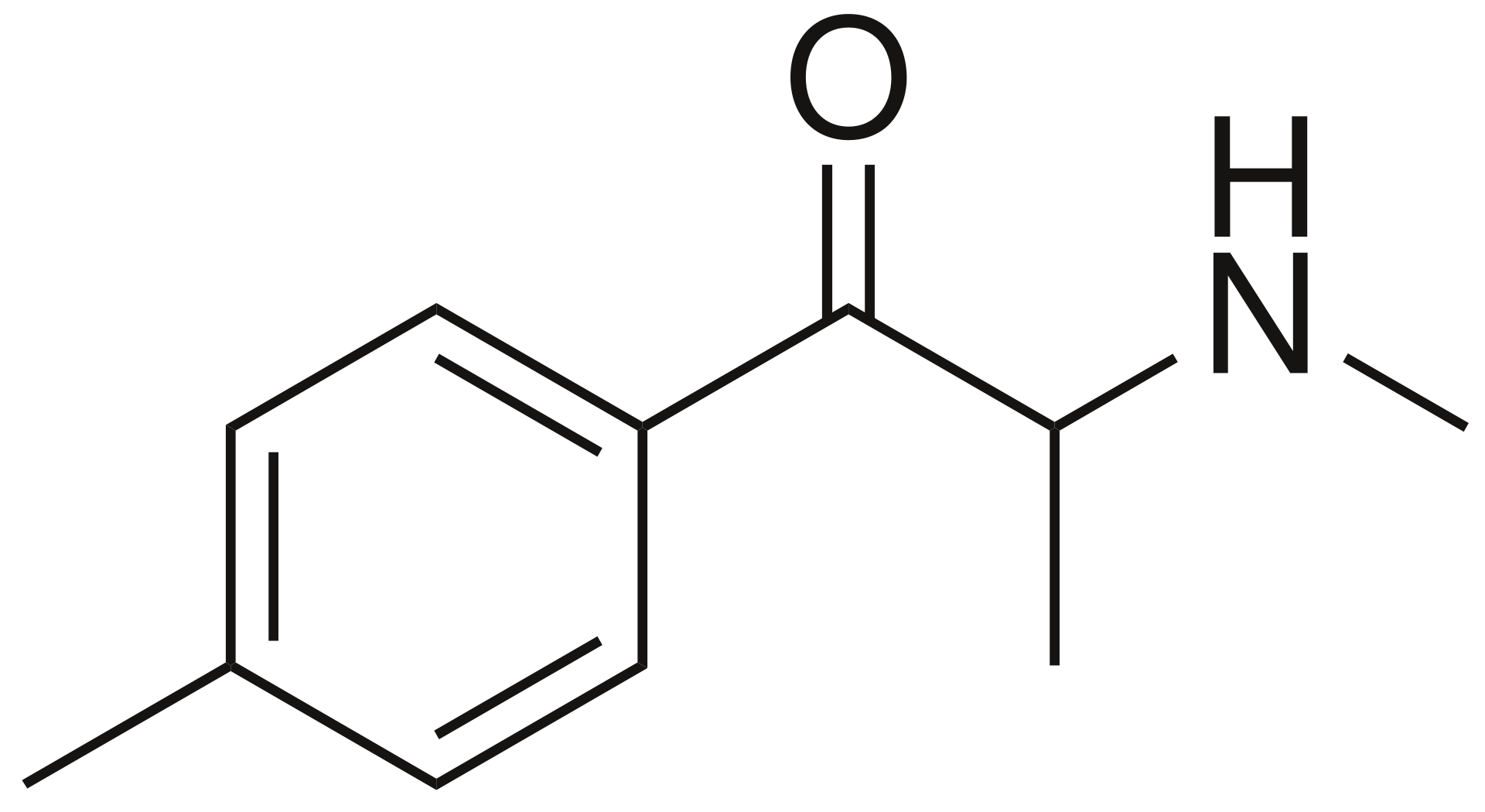 Drip funnel;

Laboratory scale (0.01-200 g is suitable);

​

Measuring cylinders 500 mL and 100 mL;

Magnetic stirrer with heating plate;

Glass rod and spatula;

Separatory funnel 1 L ;

Laboratory grade thermometer;

Buchner flask and funnel;

Filter paper;
Reagents:
4'-Methylpropiophenone (cas 5337-93-9) - 100g;

Benzene – 600ml;

Bromine (Br2) - 100g;

N-methylpyrrolidone - 300ml;

Methylamine free base 40% (aqueous solution) - 200 ml;

Hydrochloric Acid 35% - 55ml;

Acetone - 1000ml;
Description of the 4-MMC (mephedrone) synthesis video:
From 0:00 to 0:48
It is said at the start of this video that laboratory and reagents temperature (except for those that need to be cooled) should be moderate, about 20-25ºC.

Next, the preparation of the reactor to work is described:​
"2000ml Round bottom flask is placed on a magnetic stirrer and secured to a retort stand and clamp for securing apparatus. A magnetic stirrer work is checked. Reflux condenser is installed on the central flask neck and a gas outlet hose is fit to it. The hose is installed carefully, without kinks. The end of the hose is immersed into a canister with 15% aqueous sodium bicarbonate solution (to absorb odors)."
​
Then, the reagents loading is come :
""4-Methylpropiophenone 100g and benzene 300ml are poured into the flask and stired. Bromine 100g and benzene 100ml are poured into the drip funnel. A thermometer is installed and bromine is dropped into a reaction mixture. A gentle heating is turned on and the temperature in the flask is increased to 35 ºC, then the heater is turned off."
​
---
From 0:48 to 3:23
Bromination reaction. The bromination is started by a chemist after the all reagents loading. Bromine solution is added in small portions to benzene in the flask, so that the reaction mixture has time to discolour. After the bromine addition, the mixture is stirred on a magnetic stirrer for addition 30 minutes.
​
"Bromine is added drop by drop to the mixture in four equal portions after the switching off the heater . Each further bromine portion is added after discoloring of previous one."
"The reaction mixture is stirred for additional 30 minutes after complete bromine addition"​
The 4-Methylpropiophenone bromination gives 2-bromo-4-Methylpropiophenone in benzene.
​
---
From 3:23 to 6:16
Reaction mixture is
washed
in separatory funnel and excess pressure is revealed through a tap. The funnel is twisted in a circular motion, for collecting the remaining water and draining it, the solution of 2-Bromo-4-Methylpropiophenone in benzene is left for the following synthesis.
" Water 200 ml is added after 30 minutes."
"The mixture is poured into the separatory funnel. Layers are separated clearly. The bottom layer is disposed, the top layer is needed."
"The washing is repeated. Water 200 ml is poured and shaken well. Layers are separated clearly. The bottom layer is drained.
Do not forget to release the pressure by opening the tap."
"The funnel is rotated in a circular motion to collect all water in the bottom layer."
​
---
From 6:17 to 9:02
Methylamination reaction. The solution of 2-Bromo-4-Methylpropiophenone in benzene is poured back into the flask, methylamine is poured. The reaction mixture is heated to 40 ºC. NMP is added in small portions, make sure theat a temperature is not exceeded 60 ºC. In case the temperature is exceeded 60ºC, the following addition have to be carried out when temperature is droped. After all NMP has been added, the reaction mixture is stirred for 15 minutes. A rich amber color of the reaction mixture can be observed during the methylamination process. This is a sign that the reaction is over.

2-Bromo-4-methylpropiophenone methylamination gives mephedrone free base (4-MMC).​
"The obtained 2-Bromo-4Methylpropiophenone in benzene is poured back into a clean flask and 40% methylamine 200ml (aqueous solution) is added."
"A reflux condenser, drip funnel and thermometer are installed onto the flask. The stirrer is turned on and flask is heated to 40 ºC."
"When the temperature is reached 40ºC, the heater is turned off and N-methylpyrrolidone 300 ml is added from the drip funnel, make sure that the temperature is not exceed 60 ºC. A short exothermic reaction takes place and the temperature can rise after addition of N-methylpyrrolidone."
"Reaction mixture is stirred for 15 minutes after all N-methylpyrrolidone is added."​
---
From 9:03 to 11:33
Mephedrone free base
washing
. The free base is washed with sodium bicarbonate solution 200ml 5% and water 3 x 200ml . The mixture is shaken well, an excess gas pressure is released through a tap. Layers are separated clearly in the separatory funnel. The lower aqueous layer is drained into a waste, the upper organic layer with a free base is left for further work. A pinch of sodium chloride is added to solution for residual water removing from a turbidity. It is left for some time after well stirring to layer separating and a water residue is drained. The pure free mephedrone base is obtained.
​
"Then sodium bicarbonate solution 100ml 5% and benzene 200ml are added, stirred well, poured into a separatory funnel. Layers are separated clearly."
"The lower water layer is disposed off"
"Water 200 ml is poured to mephedrone free base in benzene (top layer), stirred well. Layers are separated clearly. The lower aqueous layer is disposed off."
"Mephedrone free base in benzene is washed with water three times."
"If mephedrone free base solution in the benzene looks cloudy after washing, some sodium chloride is added and stirred in a circular motions."
"The mixture is left to stand for a couple of minutes, the rest of the water with the sodium chloride is collected at the bottom layer. This water residue is disposed off. Pure mephedrone free base in benzene is remained in the funnel."​
---
From 11:34 to 12:38
Acidification. Mephedrone free base is converted to hydrochloride salt in this part of the synthesis. Hydrochloric acid is added drop by drop to 4MMC free base with a constant stirring. The solution is become hot after acidification and precipitate is appeared. This precipitate is mephedrone hydrochloride. It is necessary to measure
pH
constantly during the acidification procedure. The acidification is stopped when pH 5-5.5 is reached. The beaker with mixture is covered with a film and put into a freezer for a few hours.
​
"Mephedrone base in benzene is poured into a wide beaker, put it on a magnetic stirrer. A stirring bar is placed inside and stirring is started. A drip funnel is placed above the beaker and hydrochloric acid 55 ml is added at 1-2 drops per second rate."

"pH is measured every 10 seconds to reach 5-5.5 pH. Mephedrone hydrochloride is formed in the beaker and the temperature is rise during the acidification procedure. Mephedrone hydrochloride can be dissolved, this situation is normal. Crystalls are appeared during a cooling procedure."

"The stirrer is turned off when pH is 5-5.5, the beaker is covered with a cling film and put it in a freezer for 4 hours. The freezer temperature shouldn't be lower than -15 ºC."​
---
From 12:39
Filtration and washing.
The
filtration apparatus
is prepared: Buechner funnel with a paper filter is placed on a Buechner flask in the final part of the video. The filter is moistened with acetone for a better contact with a funnel surface. The mixture is stirred well so that the precipitate does not stick to a beaker and poured into the funnel. The mephedrone remainder is washed off with an additional portions of acetone and transferred to a Buechner funnel.

Then a vacuum pump is connected to Buechner flask via a hose. The powder is thickened slightly and cracks are appeared during the filtration process. A small amount of acetone is added to the Buechner funnel, switching off the vacuum at the same time, for the better washing and purity level. The product is washed with acetone until transparent flushes is started to drip from the funnel.

The powder is dried in Buechner funnel with a switched on vacuum until mephedrone hydrochloride powder is become crumbly after washing with acetone. The mephedrone is air dried in a dry room and weighed.
​
"The resulting precipitate is filtered under vacuum and washed on the filter with acetone.
The long edge of the funnel spout in the opposite direction from the side outlet of the flask is unfolded."
"The filter have to be moistened with acetone."
"The mephedrone powder residue in the beaker is washed off with portion of acetone."
"Hose from a vacuum pump."
"Magnet from a magnetic stirrer."
"Mephedrone is dried on the air. The theoretical yield of mephedrone hydrochloride is 144g from 100g of 4-methylpropiophenone, but considering losses, you get ~100g (maybe more)."
​
Last edited by a moderator: